BOSCH
Kontakt: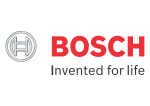 Ansprechperson:
Herr DI Javier Ealo
Adresse: Göllnergasse 15
1030 Wien
Telefon:
+43 664 2044 126
Programmthemen:
Gebäude, Energienetze, Mobilität, System 'Stadt' und System 'urbane Region', andere
Wir bieten:
BOSCH works in Smart City projects as a technology partner for over one decade now. Our offering ranges from tailor-made mobility solutions (i.e. door-to-door transport integration app, electronic ticketing, parking solutions, Traffic monitoring systems, e-bikes, e-scooters...), to energy management (i.e. Virtual Power Plants, energy storage, etc), smart homes and buildings, safety, community building and governance topics. We supply our technology worldwide in very flexible business models. Our moto is "Technology for Life"
Wir suchen:
At Bosch we are always looking for clients and for partner companies to create solutions together applicable in smart cities. We are very flexible in our approach and make it enjoyable to work with us.
Unsere Vorstellungen zu smart energy:
We participated in one of the very first projects in Austria in Rheintal, where we contributed with hardware and with a virtual power plant. From those learnings we are now implementing similar projects worldwide. We do not see energy as an isolated topic inside a city: we understand that a holistic system is in place as soon as we consider other topics such as transportation or homes and the management of public buildings. Therefore from our experience we are able to integrate cross-domain solutions which satisfy all incumbents in the most efficient way.
Über uns:
Bosch is an industrial group which employs about 3,000 people in Austria and ap. 400.000 around the word. Our turnover is ap. 1,2 billion Euro, and 73,1 billion worldwide. Our main areas of work are mobility, industry, energy and building technology and consumer goods. We are a leading supplier in the Internet of Things, where we offer solutions for mobility, industry 4.0, smart homes and smart cities. Thanks to our competence in the design and manufacturing of sensors and to our proprietary cloud we are able to create turn-key, cross-domain, connected solutions. Almost 60,000 employees in our R&D activities sustain our technological competitiveness.